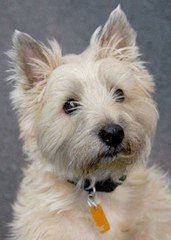 Ever since we opened the store, part of coming here was being greeted by JayJay. He was the Cairn Terrier that so many of you played with when you brought your computer in or picked it up.
Many of you brought treats and brought your children to play with him. He loved having visitors.
Unfortunately, he was stricken with kidney disease about a year and a half ago and finally succumbed to it last month. It was one of the toughest days of my life when I had to escort him to the Rainbow Bridge. I had always promised him that I wouldn't let him suffer. I lived up to that promise, but nothing I've ever done hurt so badly.
To those that knew and loved JayJay, you might be interested in the eulogy that I wrote for him. I think that I did a decent job of capturing the soul of my Little Buddy.